Dr Steven B. Eustice
Spinal Health of North Texas
(940) 591-9097
Dr. Steve Eustice has practiced Chiropractic in Denton County for over 15 years.
His clinic is a unique, relaxing, healing environment. Dr. Eustice effectively blends traditional chiropractic vitalistic philosophy with high-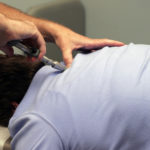 tech instrument adjusting techniques and gentle cranial adjusting. Additionally, Dr. Steve utilizes Acupuncture, Auriculotherapy (needleless acupuncture on the ears), Quantum Reflex Analysis (QRA) which incorporates clinical nutrition ,detoxification (internal and external) and whole body/mind health, non-surgical Spinal Decompression, and Applied Kinesiology (AK). Dr. Eustice is also a Certified Addictionologist candidate – C.Ad (c) through the American College of Addictionology and Compulsive Disorders. Massage Therapy is also available on site.
Dr. Eustice employs high-tech diagnostic equipment to monitor the status of the nervous system. Blood testing, urinalysis, saliva hormone testing and home pH testing are also available.