Friday 5:30-6:30 pm (Date to be announced)
Instructor Meg Kirby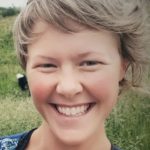 Vinyasa meaning, "flow" or "to move without resistance and Hatha means force or controlled movement. Together these incorporate flowing sequences that become familiar, but also incorporates variations to modify, intensify, or challenge the body by altering the pace or duration of poses, and the frequency that they are repeated. Vinyasa hatha yoga is both a calisthenic exercise for the body and a healing process for the nervous system.
Come and enjoy this all levels Vinyasa class and connect with your greatest intention. This class focuses on the heart as the center of healing and a guide which carries a student throughout their practice. This class will provide many health and fitness benefits as well as a greater sense of peace and calm.
About Meg Kirby:
An artist, foodie, and adventure lovin' Yogini, Meg had her first experience with Yoga in 2010 in her home city of Calgary Alberta Canada, while she was going through a very tough transition in her life. Soon after she came to realize that Yoga was not a work out trend soon to disappear.
One of the most pivotal lessons that Yoga has taught her is the importance of community. The community at the studio picked her up and gave her little shoves forward when she needed it. With help from the community, commitment to her practice, and a growing compassion towards herself and others, she began to see that she had the potential to also help others in kind and took her initial YTT at the Ananda Ashram of Monroe NY in August of 2014. Afterwards she took additional training in Aqua Kriya Yoga and Prenatal Yoga before becoming a mother herself.
Her sincere wish as a teacher is to help others to shine their inner light brighter, and help them to see that there is a reality beyond the darkness of depression, anxiety, and physical pain.
Meg specializes in – Restorative, Pre-natal, Post-natal, Chair Yoga, Gentle Hatha, and Aqua Yoga's.